Category: Mel Muria
Mel Muria, founded in 1810 by Rafel Muria Queralt, is a company dedicated to the world of beekeeping for five generations.
The different products of Mel Muria, honey, pollen, propolis and royal jelly, are among the most renowned in Catalonia and of Spain.
The long list of obtained at national and international level is the confirmation of it The company currently has 1'400 hives.
It attaches great importance to transmitting its unique cultural heritage through activities for the general public and for classes, with didactic workshops.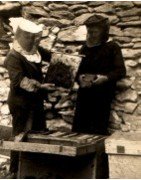 Showing 1-11 of 11 item(s)