Category: Olive oil
Our olive oils come from Catalonia, in the north of Spain.
We work with cooperatives of producers, Coselva and Escornalbou, who
exploit different crops (hazelnuts, almonds, vines and olives). These oils are
with a Protected Designation of Origin (PDO) Siurana, guaranteeing
in particular an oil obtained exclusively from the arbequina variety
The organic range is produced by the family Miro Cubells, whose farm is located in
on the edge of a natural park. The Cavaloca range is produced on very old
trees.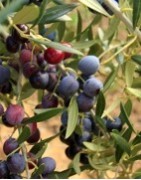 Subcategories
NEW HARVEST 2020

The agricultural cooperative of Esconalbou was founded in 1944.

It has 450 members, of which 200 are producers of arbequina olives.

The new oil mill was built in 2012 and allows to produce a high quality oil that meets the requirements of the Protected Designation of Origin (PDO) Siurana.

Coselva is a cooperative of producers founded in 1900, located in Catalonia.

Most of them have a small estate where they produce olives, almonds and hazelnuts

The extra virgin olive oil thus produced has the benefit of a Denomination of Protected Origin (DOP) SIURANA.

This defines the exclusive use of the variety Arbequine, the zone of production, a manual harvest and that they are pressed within 24 hours

MIRO CUBELLS - Province of Tarragona, Catalonia (Spain)

The Miro and Cubells families have been present in the village of Cabacés for many generations.

The olive plots, some of them several hundred years old, benefit from microclimates linked to the Ebro valley and the continental and Mediterranean influence.

Their objective of production is clear: to produce in organic agriculture. All the olive oils are therefore produced in accordance with the specifications of the "Catalan Council of Agricultural Production Ecological (CCPAE)".